Good morning, and welcome to the Indy Gaming newsletter, a weekly look at gaming matters nationally and internationally and how the events tie back to Nevada.
If a colleague or associate emailed this newsletter to you, please click here to sign up and receive your own copy of Indy Gaming in your inbox. – Howard Stutz
---
The Biden administration's plan to create a national policy for the use of cryptocurrency was viewed as a positive step by the gaming industry.
Signed by President Joe Biden last week, the executive order tasks multiple agencies, including the Treasury Department and the Commerce Department, with examining the risks and benefits of crypto.
Normally, gaming leaders shy away from federal oversight.
Not this time.
"We welcome President Biden's directive for the administration, and in particular Commerce and Treasury, to review the current state of cryptocurrency and develop guidance for businesses," AGA CEO Bill Miller said in an email to The Nevada Independent. "The casino gaming industry continues to innovate to meet customers' expectations but must do so with certainty and clear guidance on regulatory obligations."
The AGA has focused recent efforts on the expansion of payment modernization in casinos, which has led to the growing use of mobile wallets and cashless gaming technology.
The Washington D.C.-based trade organization also brokered the relationship between the gaming industry and the U.S. Department of Treasury's Financial Crimes Enforcement Network (FinCEN), which collects and analyzes financial transactions. FinCEN and the gaming industry have worked together to ensure casinos that use cryptocurrency comply with all anti-money laundering regulations and rules under the Bank Secrecy Act.
Until last week's announcement, gambling with digital payment methods, such as Bitcoin, Ethereum and Dogecoin, hadn't been discussed.
Some gaming industry observers have suggested it's no longer a question of if, but when cryptocurrency finds its way onto casino table games and slot machines. Several Las Vegas casinos are using cryptocurrency exchange kiosks – similar to an automated teller machine – that convert dollars to cryptocurrency or vice versa.
Under the executive order, Biden directed the Treasury Department and other federal agencies to study the impact of cryptocurrency on financial stability and national security. The department is also being asked to produce a report on the future of money and payment systems and the role of cryptocurrencies.
The casino industry has already started to determine ways to mesh digital payment assets into gaming operations. However, gambling with unregulated cryptocurrency is not yet on the table.
The Nevada Gaming Control Board doesn't have regulations governing the use of cryptocurrency on casino floors, and current policies don't permit digital methods to be directly used to conduct gaming activity. Officials on the board, however, say they'll evaluate any crypto-related proposals brought by gaming companies on their merits.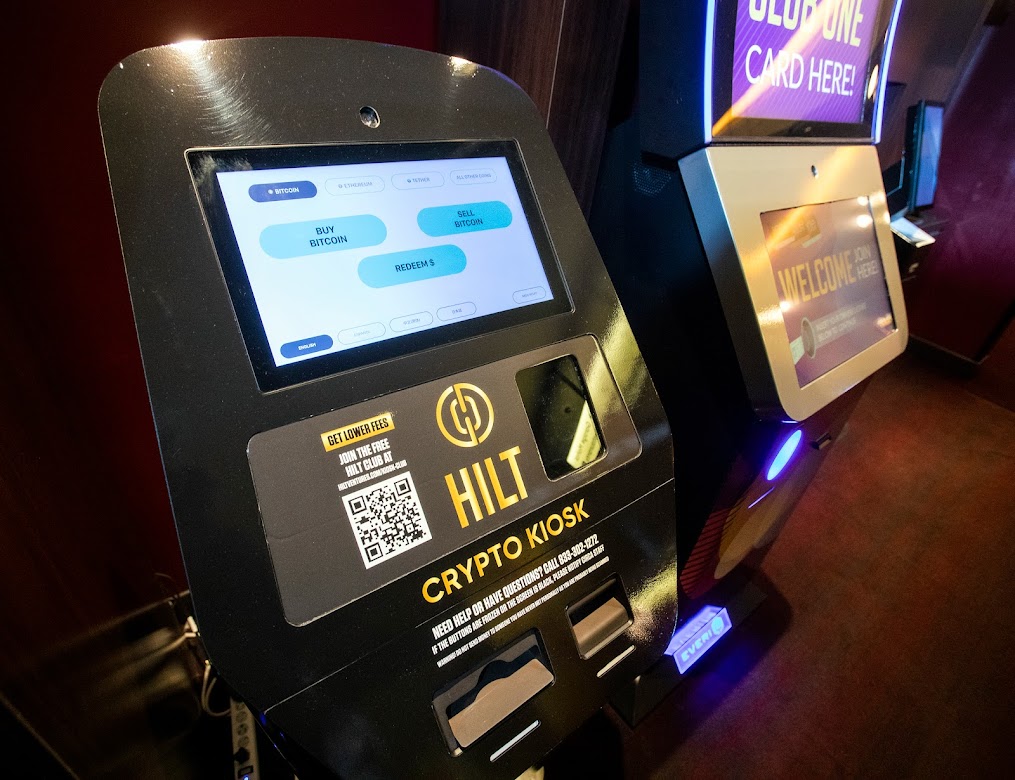 "The President's announced whole-government approach to regulating cryptocurrency and his discussion of a digital form of U.S. currency are positive signs," Control Board Chairman Brin Gibson said. "We will enact the necessary controls to satisfy state gaming tax collection provisions and the Bank Secrecy Act (rules) as the specific requests require."
The news was welcomed by gaming industry companies that provide the technology for cashless gaming transactions.
Everi Holdings Executive Vice President Darren Simmons, who oversees the company's cashless payments division, said the environment surrounding cryptocurrency is "plagued with lack of clarity and coherence" from federal agencies involved with monetary policy.
"In contrast, the executive order (showed) a clear direction to execute a focused effort for understanding on six key areas with additional support for Central Bank Digital Currency initiatives to bring the U.S in line with global efforts," Simmons said.
Sightline Payments co-CEO Omer Sattar suggested the conflict in Ukraine may have "somewhat accelerated" the executive order, given that Russian individuals and companies might try to evade economic sanctions by using cryptocurrencies.
"Normally, in gaming, we would be saying, 'no, no, no' to federal (oversight)," Sattar said. "But if we think about this from a banking standpoint, keeping in mind those core principles of safety, security, anti-money laundering and financial inclusion, then federal intervention is critical, and this happening is very positive."
Sattar said large cryptocurrency companies have been advocating for federal involvement.
"You want crypto to be available as an asset class and as a payment class," Sattar said. "That requires federal work. For the states to do it individually, it just doesn't work."
The executive order also encourages the Federal Reserve to research the possible development of a U.S. central bank digital currency. Policy recommendations could be announced in the next six months.
National Security Advisor Jake Sullivan and Brian Deese, Biden's top economic adviser, said in a joint statement to The Associated Press that the order establishes the first comprehensive federal digital assets strategy for the United States.
"That will help position the U.S. to keep playing a leading role in the innovation and governance of the digital assets ecosystem at home and abroad, in a way that protects consumers, is consistent with our democratic values and advances U.S. global competitiveness," they said.
---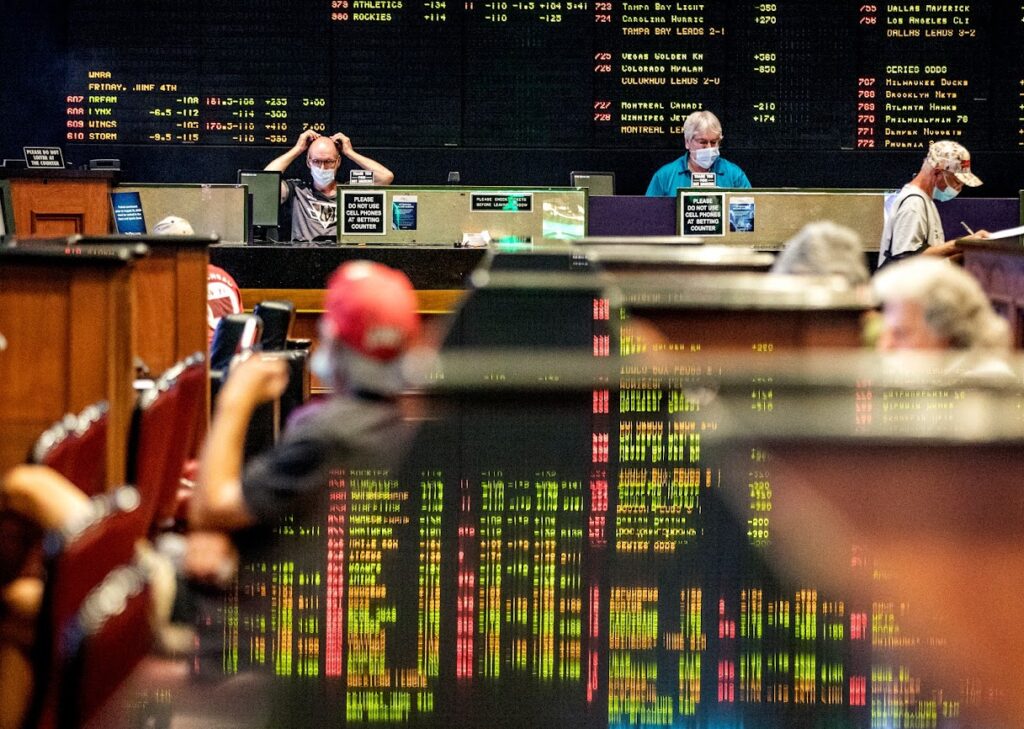 Analyst predicts $3 billion will be wagered nationally on March Madness
Legal wagering on the NCAA Men's Basketball Tournament could top as much as $3 billion nationwide, tripling the $1 billion wagered on last month's Super Bowl and making the three-week-long playoff tournament the largest-wagered sporting event in the U.S.
Analysts at PlayUSA.com, a news, analysis and research firm, said the growth of legal sports betting nationwide would double the $1.4 billion bet on last year's NCAA tournament, commonly referred to as March Madness. There are now 30 states and Washington D.C., with legal sports betting.
"Wagering on March Madness typically dwarfs the Super Bowl, and this year the difference could be dramatic," PlayUSA.com analyst Eric Ramsey said in a statement. "The high betting volume is a function of the NCAA Tournament's popularity coupled with 67 games played over a condensed schedule of just a few weeks."
Nevada, which took in a single-year record of $179.8 million in wagers on last month's Super Bowl LVI, doesn't break out wagering totals for March Madness. Gaming Control Board Senior Economic Analyst Michael Lawton said the agency doesn't plan to change its format.
Anecdotally, Lawton said wagering on the NCAA tournament has traditionally fueled the sports betting industry in the early spring.
"In the past, we have been told by operators that approximately 70 percent of basketball (betting) during the month of March can be attributed to the NCAA Basketball Tournament," Lawton said.
PlayUSA.com noted several states restrict betting on in-state college teams, while Oregon has a complete ban on college sports wagering. However, nearly 163 million people live in sports betting states and have the ability to legally wager on the NCAA Tournament.
Last year, there were 21 legal sports betting states with 116 million people. However, last year's NCAA Tournament saw every game played in Indiana with limited attendance because of the pandemic, which PlayUSA.com said contributed only a muted bump in wagering.
Ramsey said six of the tournament sites are in legal sports betting states. The Final Four in New Orleans, April 2-4, is in a state where sports betting launched in January.
"Thousands of fans will be traveling to games in Illinois, Indiana, Louisiana, New York, and Pennsylvania, over the course of the tournament," Ramsey said. "How much of a boost that will be to local sportsbooks is still an open question. But it will make a difference."
March Madness in 2020 was canceled amid the pandemic, and PlayUSA.com said the 2019 tournament drew an estimated $440 million in wagers from just seven legal states. A U.S. Supreme Court ruling in 2018 opened the nation to legal sports betting, but the decision came after the NCAA Tournament that year.
The American Gaming Association said its research found that 45 million Americans plan to wager on the NCAA Men's Basketball Tournament.
The organization said 20.9 million would bet on the tournament outside of bracket contests, such as at a retail sportsbook, online, with a bookie or casually with friends. Another 36.5 million Americans plan to wager through a bracket contest or a similar betting pool.
---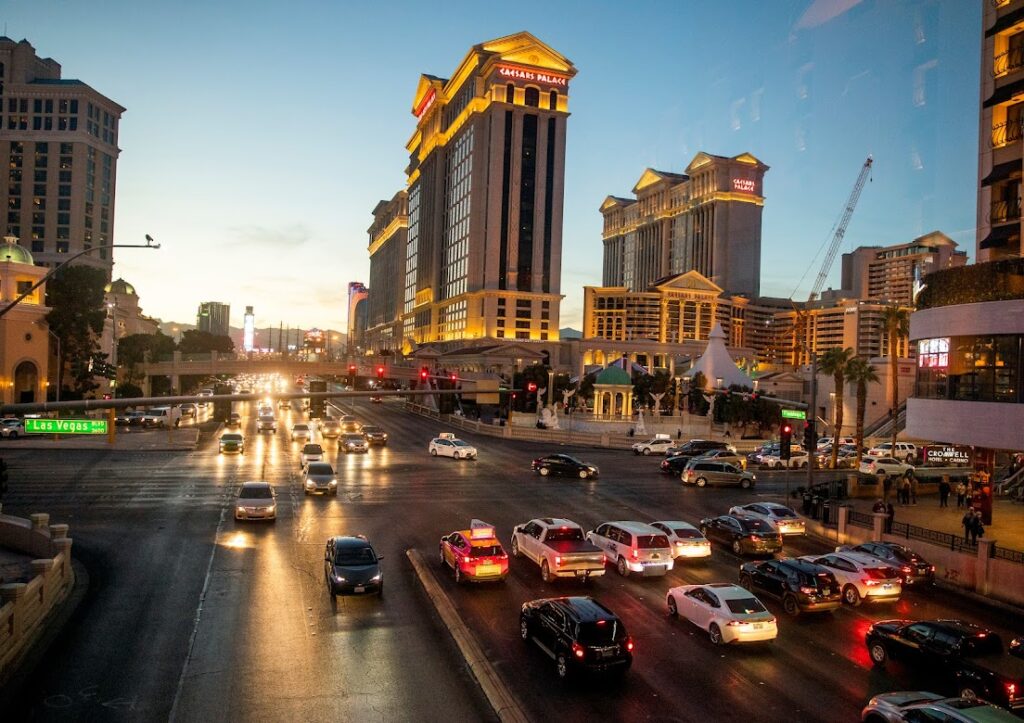 Caesars CEO adds to his ownership stake in the casino company
Caesars Entertainment CEO Tom Reeg purchased 10,000 shares of the company's common stock on March 8, spending more than $71,000 on the acquisition. Prior to the purchase, Reeg controlled almost 225,000 shares.
The company didn't comment on the stock purchase, which was revealed in a recent Form 4 filing with the Securities and Exchange Commission. According to the filing, Reeg bought the stock in multiple transactions at prices ranging from $71.26 to $71.40 per share.
The purchase came a day after Reeg spoke at the J.P. Morgan investor conference in Las Vegas where he told attendees declines in the stock prices of much of the gaming sector were "completely opposite" of current business trends. Caesars has casinos in 16 states, including nine properties the company operates on or near the Strip.
In Las Vegas, Reeg said the "pricing power" for hotel rooms was strong and Caesars anticipates group business to improve over the course of the year.
The next day, Reeg purchased the stock.
Following the SEC filing, shares of Caesars, along with much of the market and gaming sector, were up as much as 12 percent. Shares in the company ended last week at $74.81 per share.
A research comment from Jefferies gaming analyst David Katz helped fuel the increase in Caesars shares. He included the casino operator among the investment firm's recommended stocks. 
"We believe the fundamental environment for Las Vegas and regional casinos is expected to sustain its recent strength in demand, pricing and profitability," Katz wrote in the research note.
Katz suggested Caesars shares could see another boost when the company completes the sale of one of its Strip casinos. The company said on its quarterly earnings call in February it had begun the sale process but didn't name the resort. Also, Caesars is selling its European online sports betting and digital gaming operations to 888 Holdings for $3 billion.
It's not unusual for company executives to acquire stock in their operations. The transactions normally take place following the announcement of quarterly earnings.
And Reeg is not the first Caesars CEO to acquire stock. Back in 2018, former CEO Mark Frissora, in an effort to boost the company's share price, purchased nearly $1 million of the company's stock as a vote of confidence.
---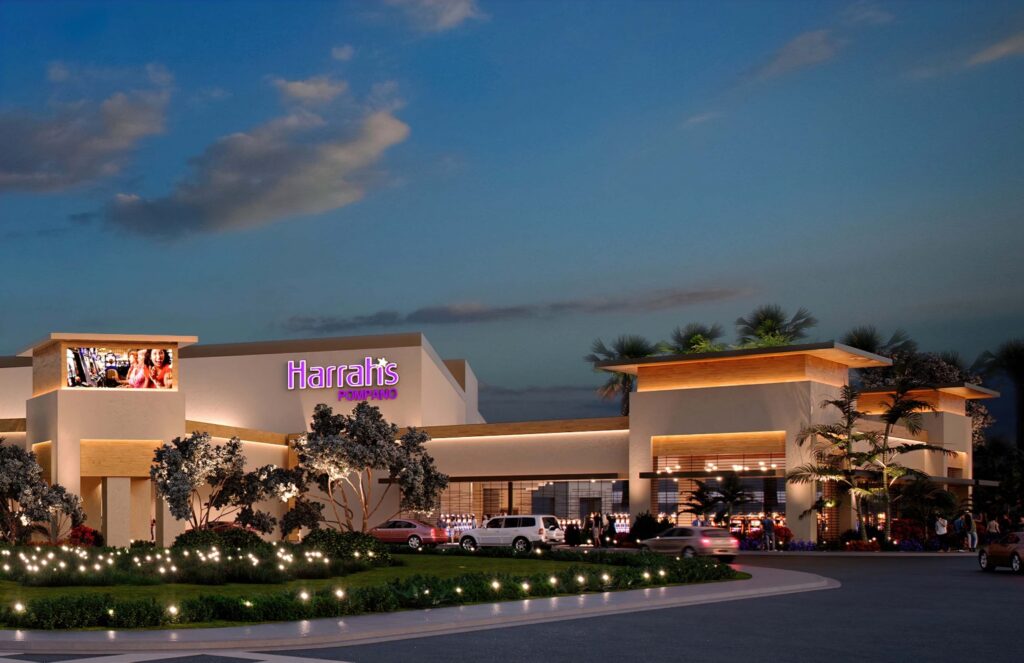 Caesars taking the Harrah's name and brand to South Florida
Speaking of Caesars Entertainment, the company announced plans to convert its Isle Casino Pompano Park in South Florida into Harrah's Pompano Beach as part of a multi-phase redevelopment effort.
The 223-acre property includes Florida's last remaining harness racing track that dates to the mid-1960s. The casino, which has 1,500 slot machines, 40 poker tables and electronic table games, was acquired by Caesars (then Eldorado Resorts) in 2017 as part of the company's $1.7 billion purchase of Isle of Capri Casinos.
Caesars also has a deal with Baltimore-based Cordish Companies to convert the area surrounding the casino facility – including the racetrack and grandstand – into the non-gaming Live! Resorts Pompano. Cordish has 12 Live! facilities throughout the U.S., including in cities where the company also operates casinos.
"Outside of the Las Vegas Strip, this is the largest development that this company will do for quite some time," Caesars CEO Tom Reeg said at a groundbreaking event last month according to the South Florida Business Journal.
Caesars has been rebranding several of its properties under the company's various trademarked names, including converting Bally's Las Vegas into Horseshoe Las Vegas.
Harrah's Pompano Beach will undergo extensive renovations, including new lights and flooring throughout, new restaurant space, and a rebrand of the existing poker room as South Florida's official World Series of Poker (WSOP) Poker Room.
---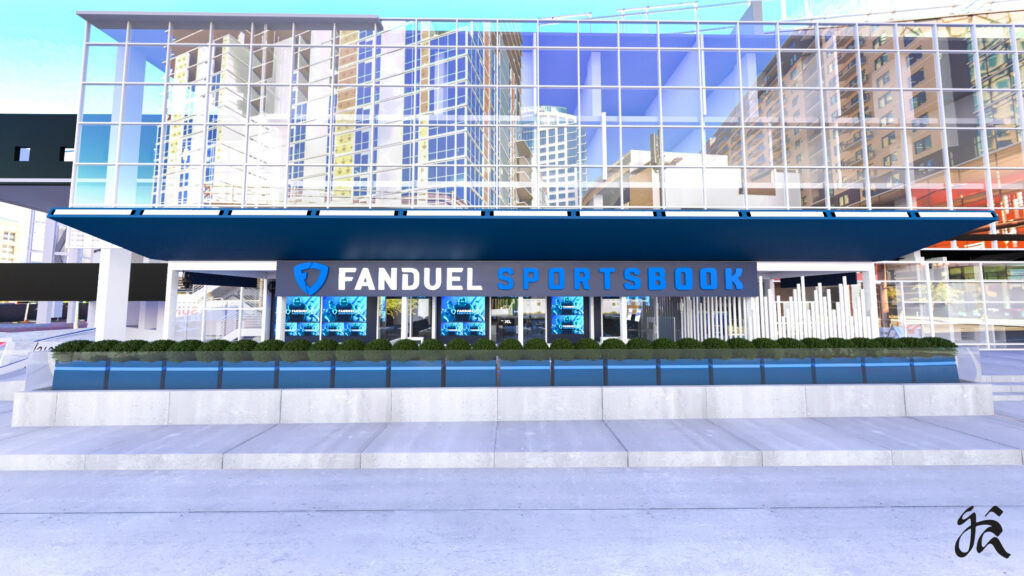 Four operators take control of Arizona's sports betting industry
Arizona's recently-launched sports betting business is increasingly dominated by four companies that controlled more than 90 percent of the overall wagers and almost 90 percent of total revenues.
The market takeover took place in less than four months.
"Arizona is the only state with four companies trending toward double-digit handle and revenue share in the U.S.," Eilers & Krejcik Gaming analyst Chris Krafcik wrote a research note after Arizona gaming regulators released sports betting totals for 2021.
The state launched sports betting in mid-September and attracted 11 operators to the state by the end of the year.
Arizona produced more than $1.74 billion in total sports wagers through December, which resulted in $161 million in total revenue. DraftKings has the market-high total with 31.6 percent of all wagers and 30.4 percent of all revenues. FanDuel's breakdown was 24.1 percent of the wagers and 22.5 percent of the revenues.
BetMGM collected 20.2 percent of the wagers and 23.5 percent of the revenues. Caesars Sportsbook had 14.5 percent of the wagers and 13.3 percent of the revenues.
Arizona only had two retail sportsbooks operating in 2021 at two of Phoenix's sports venues, Chase Field, home to Major League Baseball's Arizona Diamondbacks, and Footprint Center, the home arena of the NBA's Phoenix Suns and WNBA's Phoenix Mercury.
"The two available commercial options do not include an obvious choice for fans of football betting," Krafcik said.
The analyst noted that WynnBet, which launched in September, was "applying the brakes in Arizona" and substantially decreased its promotional spending. Its share of the wagering market fell from 6.1 percent in September to 2.9 percent by December.
Despite the dominance of four companies, other sports betting operators have continued to enter Arizona.
In January, Sahara and Grand Sierra owner Alex Meruelo launched SaharaBets, a digital sports wagering platform that is jointly owned by his privately held Meruelo Gaming and the National Hockey League's Arizona Coyotes, which he also owns.
---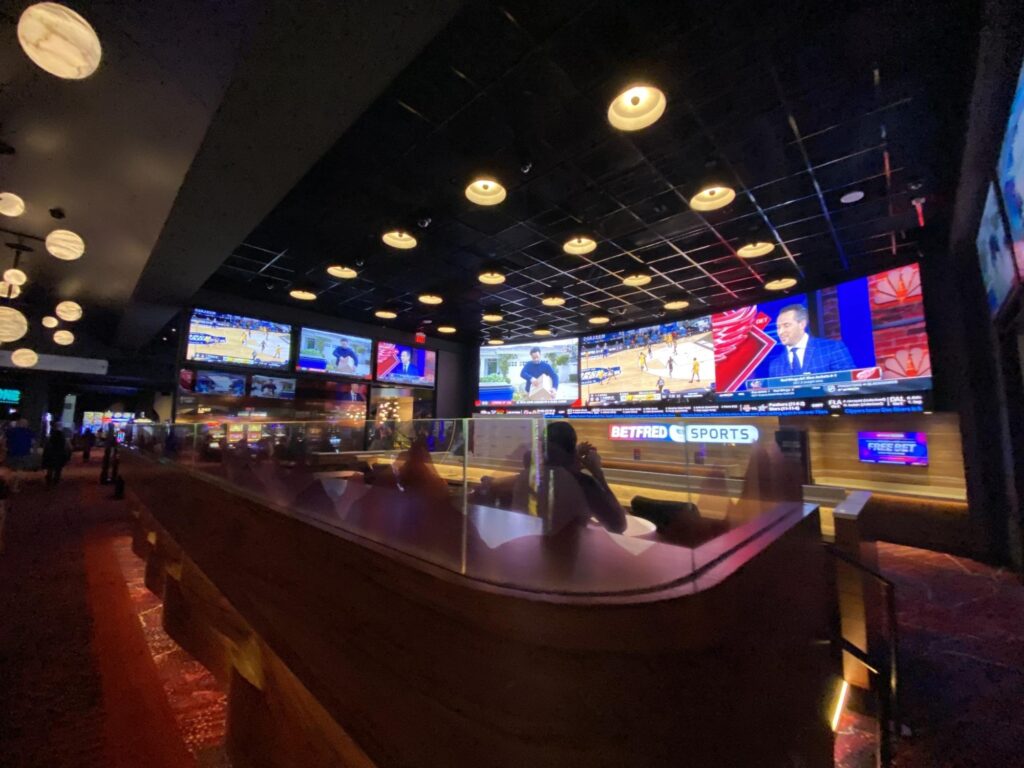 Other items of interest:
The Mohegan Sun Casino at Virgin Hotels Las Vegas celebrates its one-year anniversary this month. But it still doesn't have a sportsbook.
Betfred Sports, the U.S. subsidiary of United Kingdom-based Betfred Group, has been awaiting licensing from Nevada gaming regulators. For the last 12 months, the 1,250-square-foot space is basically a showroom for Betfred within the 60,000-square-foot casino, missing out on the recent NFL and college football season.
"Betfred Sports continues to seek licensing to operate a sportsbook in Nevada. Mohegan Sun Casino and Virgin Hotels Las Vegas look forward to sports wagering action later in 2022," according to a statement from a public relations firm on behalf of Mohegan Gaming, the business arm of Connecticut's Mohegan Indian Tribe which manages the casino for Virgin operator J.C. Hospitality Group.
Betfred USA was created in 2019, a year after legalized sports betting began its spread across the country. Betfred operates mobile and retail sports betting in Colorado, Iowa, Louisiana, Arizona and Pennsylvania in conjunction with tribal casinos. Although Mohegan is a federally recognized tribe in Connecticut, the Las Vegas casino operates as a commercial property and is regulated by the Nevada Gaming Control Board.
Former Isle of Capri Casinos CEO Virginia McDowell will be the first woman inducted into the Mississippi Gaming Hall of Fame during the Southern Gaming Summit in May in Biloxi. McDowell, who retired after Isle of Capri was acquired by Eldorado Resorts in 2017, is being recognized as an "industry influencer."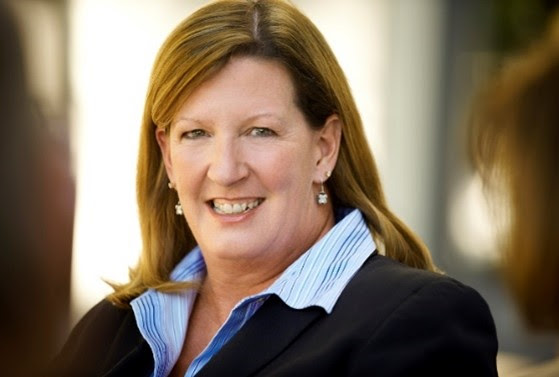 McDowell was the only female CEO of a top publicly traded casino operator, beginning in 2007 until her retirement. She serves as a director with Entain plc. McDowell is the founding chairwoman of Global Gaming Women, an industry advocacy group, and remains on the group's executive committee.
McDowell is one of five inductees to the Mississippi Gaming Hall of Fame for 2022. Another inductee is the late Craig Neilson, founder of Ameristar Casinos. He established the Craig H. Neilsen Foundation, North America's largest private funder for spinal cord injury research and programming
Station Casinos broke ground last week on the $750 million Durango Casino & Resort in the southwest area of Las Vegas. Site grading and other development efforts on the 71-acre site have been underway for more than a month.
Station Casinos is the operating subsidiary of Red Rock Resorts.
The initial phase of Durango will have 200 hotel rooms, an 83,000-square foot casino and four restaurants. Durango is expected to open in late 2023.
Station Casinos has three properties that have been closed since March 2020 because of the pandemic – Fiesta Rancho and Texas Station in North Las Vegas and Fiesta Henderson. No time frame has been given on reopening the three casinos.
J.P. Morgan gaming analyst Joe Greff said the firm's investor conference at Encore last week saw "encouraging commentary" surrounding customer spending in 2022.
"Average daily hotel room rates continue to be surprising to the upside, with the leisure consumer being price inelastic," Greff wrote in a research note.
Greff said the return of group and convention business in Las Vegas has been a positive sign. MGM Resorts International executives told the conference the company expects to be at 90 percent of its pre-pandemic 2019 levels by the end of the year.
For the Strip as a whole, pre-booked group business for 2023 is above 2019 numbers.
However, management teams from the major casino operators cautioned the conflict in Ukraine, higher gasoline costs and labor issues could weigh down the gaming markets.