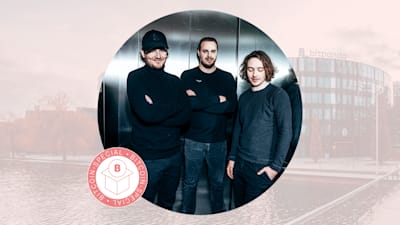 © Konstantin Reyer
Can digital money create real jobs and what does Bitcoin do for the economy? We met up with the three behind the billion-dollar cryptocurrency startup called Bitpanda to find out.
Eric Demuth, 35, grew up north of Hamburg and worked as a ship mechanic or two years before co-founding Bitpanda One of the CEO's rules is: only invest in things you really understand. Demuth is also an angel investor, meaning he takes a financial stake in other companies and helps startups by providing expertise and contacts.
Where does the American dream usually start? In the garage, apparently, because Amazon, Apple and Google are all so-called garage companies that went on to become three of the largest firms of the early 21st century.
They support the myth that you can conquer the global market even when, in the early days, you can't afford to rent an office. But maybe in a few years we'll be talking about the motorway service station where the Austrian dream began because it's there, by the Süd Autobahn, that the most successful startup in the country to date was founded. Bitpanda is Austria's first and only unicorn (a startup valued at over a billion dollars).
The start of this success story almost sounds like a joke. In the first half of 2014, a German and two Austrians agreed to meet at an unassuming café somewhere on the motorway between Vienna and Graz. There, on the border between the Austrian states of Lower Austria and Styria, Eric Demuth, Paul Klanschek and Christian Trummer pretty much founded Bitpanda after talking for a little over two hours; the legal stuff was tied up within weeks of their meeting.
The once small startup now has offices in Berlin, Barcelona, Dublin, Krakow, London, Madrid, Milan and Amsterdam, but the headquarters are still in Vienna. Now it and its 700 staff are located in the Prater, just a couple of hundred metres away from where two of the founders, Demuth and Klanschek, first met. "It was late 2013," says Klanschek. "I'd been trying to launch something for six months by then but didn't get anywhere. Then I met Eric at university."
Bitcoin meant nothing at the time and was virtually unheard of. Buying the cryptocurrency was tiresome, time-consuming and risky. You had to send money to Japan to a rudimentary exchange called Mt.Gox which ceased trading in early 2014. Klanschek and Demuth had three things in common: they first came into contact with Bitcoin via the online poker community, where money transfers are very important. At first, they found the idea of Bitcoin ridiculous but quickly changed their minds. And, most importantly, in late 2014, they realised that there was a problem to solve and that they had a workable business idea. There was a need for a European Bitcoin exchange.
But Bitpanda was lacking the third part of the puzzle: a programmer.
"We knew we couldn't found a high-tech startup without a tech founder," explains Demuth. "We were well-informed but we didn't know how to programme." The two students called Johannes Grill, president of Bitcoin Austria. He recommended Christian Trummer, who was living in southern Styria on his parents 'farm, but busy with Bitcoin in his spare time, which explains why they met on the motorway – it was the halfway point.
Trummer had come across Bitcoin through stock trading. "It's an extremely interesting combination of trading and technology," he says. "With stocks, you couldn't look into the stock exchanges at the time and look at the order book, for example, ie all the buying and selling orders. With Bitcoin you always could. Everything was public." For Trummer to give an interview at all is virtually a miracle. Right from the inception he made it clear: he didn't want to be CEO, he didn't want to deal with the press and he didn't want to move to Vienna.
This is how Bitpanda started out as a cryptocurrency brokerage. It was soon the largest and most secure in Europe, and developed into an online exchange where not only Bitcoin and the like could be traded. Bitpanda now offers thousands of assets: in addition to Bitcoin, Ethereum and many other crypto currencies, there are also stocks, funds, gold and silver.
"When I first got interested, Bitcoin was still worth cents," says Klanschek. "There were times when we didn't know if things would go anywhere, or whether the whole thing was going to die." But the small company did well. After the meeting at the motorway service station, they met at Demuth's apartment in Vienna's 15th district, which served as the company's headquarters for a while; the big launch came about a year after the meeting. On December 15, 2014, they wrote on Facebook, "We're here. Buy Bitcoin from us."
And it took of from there
The co-founders set up a little room for programmer Trummer in Bitpanda's first real office, on Burggasse in Vienna's 7th district. He had to give up on his refusal to move. There was no other way, so he now has a pied-à-terre in Vienna. Demuth explains, "Paul and I went to IKEA to buy furniture for the whole office, and a bed for Christian. We put it in a room so that he didn't have to go back to Styria every day."
A short time after that, Trummer rented his first flat in Vienna, right above the office. But then it turned out the room was too small. And what about interviews? Yes, once in a blue moon. But he stuck to his guns on one thing: the Bitpanda empire now consists of about 20 companies in various countries and Trummer isn't on the board at any of them.
But Trummer is deeply involved in the real DNA of the firm, the code. "Christian is the typical founder-CTO," says Klanschek. "You'll never be rid of him. He wrote the code. He knows every line." Maybe it is because Trummer shuns publicity, or perhaps because Bitcoin, crypto and the stellar rise of Bitpanda get talked about so much that there's little need to talk about the technology behind it.
The FinTech (financial technology) startup, a rival to the best Silicon Valley has to offer, has received hundreds of millions of euros from investors in multiple funding rounds. Their technology is now a so-called white-label product.
Bitpanda's newest business area is offering their services as a package to other players, such as French mobile bank Lydia. "Our technology, your clients," says Demuth, and adds that, so far, the business is doing really well. Though he adds, "In the world of finance you can never have a winner-takes-all situation. There will, for example, always be regional banks. It's not like Google or Facebook."
Investment has, at last, reached generation smartphone in the past two years, and everyone knows which way the wind is blowing: whether Bitpanda, Coinbase, Robinhood or Trade Republic, ultimately everyone will be offering everything, from stocks to crypto. Crypto firms and neo-brokers, a new generation of online brokers, are springing up everywhere, offering quick registration, chic design and cool features."For years we were treated like total idiots, but now everyone says, 'Look what the guys have achieved!'", says Klanschek. "But, good. At least people have learnt something."
There was an acid test for the young company back in 2017, the first year the world heard anything about Bitcoin and the many other cryptocurrencies. The media talked of nothing else, celebrities came on board and in a matter of weeks Bitcoin's value increased from $5,000 to almost $20,000. The exchanges couldn't keep up. In the last few weeks of the year, you were a professional just for having an account with one of the larger providers. Coinbase, Kraken, Binance and Bittrex had to suspend new registrations. They couldn't cope with the rush.
Bitpanda stayed open. "We were the only platform in Europe that could still take on new clients," says Demuth, not without a little pride. Bitpanda had prepared, the processes for registration and identification were tried and tested and the employees put in night shifts.
In just eight years, Bitpanda soared from zero to a current value of over US $4 billion. For that to happen, they needed great courage, a lot of work and a little luck. Demuth, Klanschek and Trummer say they hadn't really had jobs before Bitpanda. They were never employees; they were always freelancers or entrepreneurs. You could say they improvised.
Is there anything the founders regret? "Maybe that we didn't go down the VC route earlier," says Demuth. Venture capital (VC) brought in investment from the US, which then brought more experience, appeal and growth. "It's amazing. You get totally new access, partnerships, colleagues or banks. Once you achieve a certain size, you need the right partners." Though, unlike many other founders, the three service station guys are still in control of the company because together they own more than a 50 percent stake.
But there's a blemish in the story that we have told thus far. They didn't found Bitpanda on the motorway back then. They founded a company with a mouthful of a name: Coinimal. That name stood in the way of what the three founders had come together for in the first place: to give users easier access to Bitcoin. They needed a new name for the company, one that was more straightforward.
The old name had two things going for it. Trummer, the technician, resisted for one other reason, too: if they changed names, he would have to change the entire code. But the other two were in favour and won out.