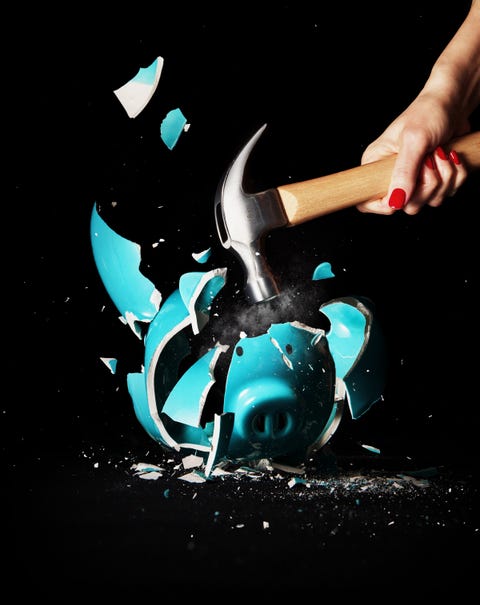 Dan Forbes
It's pouring rain in San Juan, Puerto Rico, but the fire dancers swinging flaming poi outside the warehouse party don't seem to mind. They're entertaining cryptocurrency industry executives, blockchain developers, and Burning Man types who've flocked to the island in December 2021 for Blockchain Week, in which the island's crypto bigwigs rent out basement club venues, party-hop in gated communities with top-shelf liquor, mingle with some Miss World contestants (there for the pageant the following week, funded in part by local crypto billionaires), and catch COVID together.
I'd come from a dinner earlier that night where a different set of fire dancers twirled in the background while a founder of a "social impact" blockchain company explained how his team, despite tireless efforts, couldn't find a qualified woman to fill their chief financial officer role. (They'd hired a white man instead.) Next, it was off to a house party with a driveway full of Tesla charging stations and bros leaning on the balcony. On the journey over, the thirtysomething woman riding with me, a director at an NFT (non-fungible token) music company, mulled over a question she'd been asking herself since joining the male-dominated cryptocurrency industry: "Is this a high point or a low point?" she said, recalling a moment during Art Basel Miami Beach when she'd found herself networking at E11EVEN, a 24-hour "ultraclub," in the wee hours of the morning with industry colleagues. "I really don't know…."
For women in the crypto space, this waffling between the good and bad, this constant weighing of the pros and cons of working in this exciting, emerging, and sometimes creepy industry is a recurring theme. While the opportunities for women can be both thrilling and boundless, in part because they stand out in a sea of crypto men (a bonus when networking), their minority status often goes hand in hand with misogyny. After all, it was mostly men who bought into cryptocurrency at its start, allowing them to amass big early money in the space and influence the newborn industry, where they continue to hold the reins.
No industry is safe from sexism, but the Wild West nature of the barely regulated cryptocurrency market tends to exaggerate both problems and successes. The high highs of the money and lavish parties (Chris Rock introducing the Strokes; twentysomething coders bum-rushing a yacht) are punctuated by the low lows (scams, mishaps, and market fluctuations that have cost investors millions and sent early operators to prison), facilitating an atmosphere in which it feels like almost anything can happen. And almost anything does, particularly as crypto- currency becomes increasingly mainstream. Matt Damon pressures people to invest, saying "Fortune favors the brave" in a Super Bowl ad; Gwyneth Paltrow and Jimmy Fallon buy NFT ape cartoons for a reported six figures.
"The higher in the ranks you go, the more there's a target on your back."
But because cryptocurrencies allegedly democratize financial systems by removing traditional gatekeepers like banks and politicians, anyone—not just wealthy celebrities—can get in on the action, ideally. In reality, though, women have largely been left out of the cryptosphere. About 19 percent of 18- to 29-year-old women reported buying, using, or trading cryptocurrency versus 43 percent of men in that age group, per 2021 Pew Research Center numbers. And a November 2021 report by research firm Art Tactic showed female artists made up just 5 percent of all NFT sales over the preceding 21 months. Per a February 2022 Bakkt study, "nearly all" participants—men and women—felt crypto was "strongly associated with men." Ninety-five percent of non-crypto-owning women, however, said that association wasn't what kept them from buying—it was more about not understanding crypto. But as women account for more than half of the "crypto-curious" in the Bakkt study, the number of female investors could soon increase, representing a "major potential shift." Another recent survey by BlockFi, a crypto financial services company, found nearly one in three American women say they are planning to buy crypto this year.
Of the 35 women working in crypto and NFTs interviewed for this story, most estimate that women make up around 10 to 20 percent of the industry, with some describing the culture that's sprung up around cryptocurrencies as "alienating" and "intimidating." One woman says she's seen résumés get passed over at her company solely because of the applicant's gender; others mention microaggressions, sexual harassment, and jealous male colleagues, who raise a stink or spread rumors when female peers earn promotions over them. "The moment I became a VP was when a lot of the wolves in sheep's clothing came out," says Chjango Unchained (the name she goes by in crypto), a podcaster who's been in the space since 2014. "I think it's just the nature of women rising in the hierarchy. The higher in the ranks you go, the more there's a target on your back."
But it's not as simple as writing off crypto as purely a playground for misogynists. It's a growing, global industry full of opportunity for anyone who takes the time to learn about it and dive in—and suggesting that women stay away to avoid bad actors would be a disservice. Besides, many of the women interviewed for this piece couldn't wait to extol its virtues. Joyce Yang, 32, founder and CEO at Global Coin Research, calls it "one of the best places for women" because of the "very open-minded ethos…[and] welcoming atmosphere." She and others I spoke with acknowledge the space's gender imbalance, but see the proportion of women growing "notably faster than…in traditional tech." Almost all of them say that while there are not a lot of women in crypto, the ones who are rank among the sharpest, most badass people they've ever met.
Still, my night at the warehouse in San Juan ends on a damp couch covered in fluffy blankets where two women show me the NFT art of Olive Allen, an artist in her twenties who's been making NFTs since well before the mainstream hopped on board. It's an image of a skeletal girl surrounded by Twitter icons with devil horns and text that sums up her experience as a woman working in NFTs: "When they say they are here for female artists but go & buy a pic of a woman from DegenBoy69." Because of the minuscule market share women creators account for in the NFT space, "there have been funds organized to buy female artists' NFT work," Allen tells me later in her Brooklyn apartment. "It's clearly an undervalued asset in the space"—just as women generally are.

Those who've felt the sting of crypto misogyny often chalk it up to the space's newness. "The leaders in this industry in general are young and inexperienced," one woman who works at a crypto trading firm tells me—meaning they're not exactly versed in the importance of diversity and inclusion. The more experienced leaders can also lack, well, leadership qualities. This is on display in Puerto Rico, where hordes of the crypto rich have controversially moved to avoid paying taxes.

The most high-profile leader there is Brock Pierce, a crypto billionaire and former child actor infamous for his involvement in a Hollywood child sexual abuse scandal stemming from his cofounding, in 1998, of a video production start-up called Digital Entertainment Network with Marc Collins-Rector, who was later accused of sexually assaulting three underage males. (Pierce was named in a 2000 civil lawsuit related to the allegations, but two of the plaintiffs dropped their claims against him. Pierce settled with the third plaintiff for $21,600, according to court documents, a fee Pierce has claimed was levied to cover the plaintiff's legal fees.)
The crypto world is crawling with men who've maintained power by virtue of their appreciating digital assets, eclipsing sometimes sketchy pasts and business dealings.
Pierce's rise in crypto has also been marked by controversy. He has been involved with two big-name crypto entities that have each faced allegations of financial misconduct. The first, Block.one, which sold EOS tokens (one of the more popular cryptocurrencies at the time) in a yearlong $4.1 billion initial coin offering in 2018, settled a class action lawsuit for $27.5 million filed by EOS investors who said the company sold unregistered securities and pumped up the price of EOS. (Pierce left the company in 2018.) Second was Tether (which Pierce says he hasn't been involved with since 2015), a crypto company that has come under scrutiny for being unable to prove it is holding the billions of U.S. dollars that supposedly back its currency.
The crypto world is crawling with men like these—early bitcoin investors who've maintained power by virtue of their appreciating digital assets, eclipsing sometimes sketchy pasts and business dealings. And their power is only growing. Pierce ran for the U.S. presidency as an Independent in 2020, and has filed candidacy papers with the Federal Elections Commission to seek a Vermont Senate seat. In November 2021, New York City's mayor-elect, Eric Adams, who had said he'd get his first three paychecks in bitcoin, flew to Puerto Rico in Pierce's private jet.
Another early adopter turned mega-influencer in the industry is blockchain public relations veteran Michael Terpin. The mission behind Terpin's CoinAgenda, a conference that's part of Blockchain Week in December, seems to lie in luring more big-time crypto investors to the island. Known for losing $23.4 million in a SIM-swap hack in 2018, Terpin has his hands in numerous crypto projects and is the founder of both blockchain PR and consulting company Transform Group and crypto angel investor group BitAngels.
Terpin has been extolling the virtues of relocating to Puerto Rico to crypto industry workers and holders since he moved there himself from Las Vegas in 2016. He proudly claims to have been the first person from the crypto world to relocate to the island to take advantage of its tax benefits, which allow wealthy newcomers who live there for at least half the year to enjoy tax-free profits on their investments. That's a very appealing prospect to crypto investors who benefited big-time from the market's 2017 bull run and followed Terpin to the island, much to many locals' chagrin. Puerto Ricans have staged protests against the tax breaks, including demonstrating outside a Pierce-organized conference, according to the Washington Post. And Puerto Rican Senate member María de Lourdes Santiago Negrón has put forward legislation to repeal the tax break.
Nevertheless, Terpin is undeterred in his aim to attract more crypto industry players to the island. He does this in a small San Juan convention center for an audience of mostly middle-aged white men. Holding up his hand to mimic dangling a $1 million check, he demonstrates how he's gotten other crypto founders to relocate. He insists the narrative that crypto bros are "colonizing" Puerto Rico is "false," but proceeds to use wartime analogies to describe how he and his cohort descended on the island. "I guess I would have been the paratrooper—go out and see whether it's safe, and come back and say, Hey, it's a beautiful island, and, you know, easy to do business down here," he says of arriving in Puerto Rico in 2016. "And then Brock was coming [in the] next wave, he came down…with about 50 of his friends. I guess that's sort of like the Air Force." For many—in Puerto Rico and beyond—Terpin and Pierce have been their entry points into the industry, serving as gatekeepers with their outsize influence.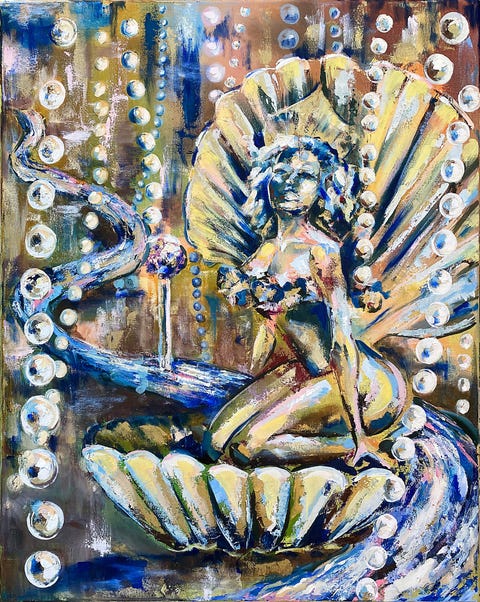 A still image of Goddess of Pearls, an NFT based on an original oil painting by of the same name, made by artist Christina Lewis Vizcarrondo (aka Bonesy).
Christina Lewis Vizcarrondo
The maleness of this conquer-culture is not lost on the women who've made Puerto Rico their home. During Blockchain Week, I meet Christina Lewis Vizcarrondo (aka Bonesy), 35, an artist who moved from New York to her mom's native Puerto Rico in 2019. She estimates that if she could sell one NFT a month, she wouldn't have to worry about her bills. "A lot of people come here and expect [locals] to bow down to them," she says. "For the most part…that's been male. I've never seen a woman in the space do that." Before I arrived in San Juan, a 29-year-old who works in crypto told me about her "very lonely" experience in Puerto Rico "surrounded by 99 percent men." She detailed "bro parties at penthouses" with drugs, sex workers, and "e-girls," attractive women who get paid to promote digital coins. "I got tired of it—like okay, this is fun, but it's not me."
While I don't see this exact scenario play out on the island, every crypto party I attend in Puerto Rico is a "bro party." The party coordinator, however, is a woman: Molly Pops, a self- described "community builder" who got into crypto less than a year ago and gushes about the industry's "abundance." She runs a group called the Ministry of Social and works with both Pierce and Terpin. Looking ready for Burning Man in a cowboy hat and red pants when we meet outside the CoinAgenda conference (which she does sales for), she acts surprised when I ask about crypto's gender imbalance. "It doesn't even cross my mind," she says, "because it's not a thing here." Peering up at a palm tree shielding us from the daily downpour, she thinks for a second. "There are a lot of men in crypto in Puerto Rico—young, single men—but I've never felt any gender profiling."
If you're looking for slightly more women in blockchain, head to Miami, where crypto advertisements float by on boats passing South Beach and the mayor has turned his paycheck into bitcoin. The city hosts a younger crypto crowd, representing a newer wave marked by the 2021 NFT boom and growing use of the term "Web3" to describe the decentralized internet that runs on blockchain. "I fit into the Web3 ideology, which is quirky, transparent, authentic, and [about] empathy," says Imgesu Cetin, 26, cofounder of Defy Trends. Pronounced alternatively as "DeFi," for "decentralized finance," and "defy" as in "openly resist," the company aims to lower the barrier to entry into crypto with an easy-to-use investing tool. Its branding stands out from the predominant dark-toned, complex-looking software that caters to "male pro traders who've been in the game for six years," Cetin explains.
A party the company hosts in January in Miami's artsy Wynwood neighborhood boasts a theme of women's empowerment. Local mural artist Diana Contreras, 40, has been invited to create a live painting (to be encoded into an NFT) while attendees mingle under purple lighting among Defy Trends–branded unicorn statues, the bar littered with koozies that read "Talk Crypto to Me." Born in Peru but raised in Miami, Contreras started learning about NFTs last year at Art Basel. She sees selling her art that way as an opportunity to build "generational wealth" for her family. Though Miami's crypto space is "mostly all men," she says Defy Trends's three female cofounders have made her feel like she could "fit in."
Having met first as friends living in Tulum, Mexico, the Defy Trends cofounders—CEO Cetin, COO Daniela Henao, and CFO Elena Garidis—now live together in what Cetin calls a "start-up" house in North Miami. "Crypto is a really hard niche to dive into, especially if you're not a finance bro, which we're not," Henao tells me shortly after I arrive at their party. "I often have to prove myself, and that's really draining." At a blockchain conference in Dubai last year, Henao describes how men at the event wouldn't talk to her, one of the only women in the room. She's witnessed male investors promise funding on the spot for male founders, only to turn to her and say they couldn't commit.
Inevitably, a man crashes our conversation. When I say I'm doing an interview about women in crypto, he says, "Who doesn't want more ladies?"
Older women see promise in this new crypto generation because of such female- led teams. Sylvana Levy, 50, tells me the gender balance in Miami's crypto/NFT scene "feels completely different" from the male-dominated art world—but she's having trouble convincing her interior designer friend, Gabriela Sanchez-Vegas. "How many women do you see there?" Sanchez-Vegas, 48, asks Levy as we stand outside the venue, pointing through the glass walls at a crowd that's more than 50 percent male. "For me, it's still male-dominated; it's the same."
Levy cites the number of women she's met "in high positions" in the industry, but Sanchez-Vegas stands her ground. "I'll put money on it," she interrupts, that men will continue to dominate this industry. "[I'll bet] crypto, NFT if you want…it's very hard for women to get into things like this." "Okay," says Levy, "but you're not very much in the NFT world, so you haven't seen—" Sanchez-Vegas turns to me. "I always bet money. She hates it. She knows I win."
Back inside the party, a trio of women in their twenties congregate on a couch, discussing blockchain with such familiarity that I think Sanchez-Vegas may lose her bet. Wearing a bubblegum-pink sweatsuit and magnetic eyelashes sold by her company, Glamnetic, Ann McFerran, 28, complains that it's hard to get her customers to pay for her beauty products in crypto because "not that many women hold"—but that doesn't stop her from planning her company's upcoming NFT play. The women chat about why fewer women have crypto and attribute it to risk aversion. An e-commerce consultant wearing vegan leather, Alexandra Checa, 26, has a message for fellow females: "Just take more risks."
"Support each other, too," adds a third in our circle, Keke, 27. Born and raised in South Florida, she's enthusiastic about her city's growth as a crypto hub and says she's spent the past two years planning a blockchain conference that aims to have "90 percent women speakers."
Inevitably, a man crashes our conversation. When I say I'm doing an interview about "women in crypto," he plops on the couch next to us. "Who doesn't want more ladies?" he says. "Like, guys want more ladies, and ladies want more ladies!" He and Keke exchange contact info—he says he can help organize her women's conference. Meanwhile, Cetin, her face covered in subtle glitter, gets on the mic to tell the party that Contreras's painting, now finished, and the associated NFT are up for auction. The price is currently at $1,200, and the proceeds will all go to Lotus House, a local women's shelter. "A lot of thought leaders in the space are male…and it's really hard to get into their space," Cetin had told me over Zoom a month prior. "I feel like I've infiltrated. I'm one of the boys now, but it shouldn't be like that." It seems that while women are steadily working their way into this industry, they still have to go through men to do it.
Cetin's "infiltration" is evident when I run into her at a club two nights later, sharing bottle service with a group of crypto men, fitting in seamlessly as the only woman at the table. I think back on all the women who've told me they're used to being the only female in the room, coming up in online coding forums and traditional tech or finance jobs, and how crypto has been kinder to them than those established male-dominant industries because there's not as much historical precedent for misogyny. At least here, the newness and lack of rules that many blame for the grossest displays of male chauvinism also spell out an opportunity for change, to shape a culture that will better welcome anyone who wants to join.
For a much simpler take on women in crypto, however, ask the bald guy I meet at a mansion party in Miami, who tells me by the pool that the industry women here and in Puerto Rico have the "same brains," a presumable compliment connoting their understanding of blockchain. There is, he adds, one difference—the women in Miami are hotter.
This article appears in the June/July 2022 issue of ELLE.
Jessica Klein Jessica Klein is a freelance journalist whose work has been featured in The Atlantic, The New York Times, The Guardian, Fortune, Slate, Teen Vogue, and other publications.
This content is created and maintained by a third party, and imported onto this page to help users provide their email addresses. You may be able to find more information about this and similar content at piano.io