Key Takeaways
Coinfessions is a Twitter account that regularly posts crypto-related "confessions" submitted by members of the crypto community.
The posts, usually very short, confess various secrets pertaining to losses, wins, unethical behavior, and activity that happens behind-the-scenes in crypto projects.
The account presents an opportunity for crypto natives to learn about the experiences of their fellow community members through the market downtrend.
Shady scams, huge losses, accidental wins, and behind-the-scenes drama are the purview of Coinfessions, which has quickly gained steam on Crypto Twitter. 
What Is Coinfessions?
Coinfessions is a Twitter account that shares "confessions" anonymously submitted by crypto community members. Though it only launched in April 2022, the account has already garnered more than 100,400 Twitter followers and has become widely popular on Crypto Twitter.
Run by the anonymous founder of trading blog Alpha Illustrated, Coinfessions collects between 25 and 100 submissions a day through Google Forms and publishes about one in every ten. A code system allows confessors to prove authorship of their submission or follow up on a previous one.
Sometimes funny, often tragic, and occasionally outrageous, the confessions usually center around whatever is happening in the space at any given time. Crypto Briefing takes a deeper look into what Coinfessions' popularity suggests about the state of the crypto community.
Big Gains, Bigger Losses
2022 has been a difficult year for the crypto space, primarily because of the brutal market downturn. The global cryptocurrency market capitalization peaked at more than $3 trillion in November and dropped to about $988 billion in the course of eight months. Coinfessions has consequently become an outlet for market participants to talk about their losses. In fact, the majority of testimonies center around one topic: the failure to turn paper gains into real ones.
"At one stage I had retirement money on the table," claimed a submitter. "I failed to take profit despite the fact I had notes on my desk and my Discord group leaders telling me so. I didn't tell my wife. We could have had the life we dreamed about and I regret it every day." There are countless submissions like this one, each more painful to read than the last. Some confessors saw their portfolio skyrocket in value only to quickly have it return to square one, a trading mistake commonly referred to in the space as "round-tripping." 
A theme that sadly comes up, again and again, is the idea of being worse off than before entering the crypto space. Posters have admitted to losing their entire life savings to market volatility, exploits, scams, protocol implosions, or lending company withdrawal freezes. Multiple LUNA confessions emerged shortly after the collapse of the Terra ecosystem; the Celsius Network bankruptcy was also reflected in the submissions. Others have professed to now be saddled with enormous debt. 
In many cases, the disappearance of funds had a dramatic effect on posters' lives. Stories of break-ups, divorces, job losses, and estrangement from family and friends are regularly published; some of the most gut-wrenching confessions involve losing money that didn't even belong to the confessor. 
"After years of bitching to my dad who works 12-hour night shifts about the banks not allowing me to get a mortgage for a one-room apartment without [a] 12% deposit, he and mom sold their flat to downsize. They wired me their remaining money for my starting capital. Instead of using it to get a mortgage, I listened to [YouTube] influencers and [put] it on 50k Bitcoin at the start of the year so I could pay dad back and get a flat too. Anxious to answer his calls [because] he keeps asking what is the hold-up. I'm running out of excuses."
Stories like the one above highlight another important factor: many crypto natives are young. While people of all ages have invested in cryptocurrencies, the online community is mostly comprised of male teenagers, college students, and young adults. For some of them, the only way to get exposure to the market was by borrowing funds from their relatives, girlfriends, or wives. "My mother has forgiven me but I will never forgive myself," said a confessor after explaining how they lost their mother's life savings.
Fortunately, the market-related posts are not always negative, though the balance is currently skewed in that direction. Every once in a while, someone confesses to having radically changed their behavior or lifestyle thanks to the money they made. Such posts are often received with a mix of congratulations and jealousy in the comments.
Coinfessions, by acting as an outlet for these folks, also allows the broader community to put a voice to some of their fellow traders. In fact, that's precisely why the account was created. "I felt there was a disconnect between the good advice and common wisdom being shared and the reality of what most market participants were doing," the owner told Crypto Briefing. Thanks to Coinfessions, high-profile stories like the Terra collapse are given an intimate spin because people who lost money in them describe exactly how it felt.
Candor Through Anonymity 
The anonymity offered by Coinfessions has additionally presented an opportunity for developers, traders, and executives to provide their honest thoughts on sensitive topics. For example, a July post led to heated conversations on Twitter about the efficiency of DAOs after an insider claimed that very little was being done behind the scenes. 
This dynamic is intriguing since the crypto space has a strong culture of pseudonymity, meaning that it would not be hard for anyone to create a new profile and reveal similar secrets. An explanation can be found in the fact that Coinfessions acts as a powerful loud speaker (in fact, one user once used Coinfessions just to get in touch with a prominent trader).
It's apparent the platform has also been a conduit for community members to figure out their own emotions or receive advice. "I've started an NFT collection with the intent to… run away with the money," confessed a founder before continuing: "Now I fell in love with the community and I don't know what to do. The community is strong and looks up to me." Teenagers have similarly talked about the state of confusion the market has left them in or their lack of social life outside of crypto. 
"I have some simple rules that I try and adhere to [when picking confessions]," explained the Coinfessions operator. Accusations, suicide threats, and requests for funds are forbidden. "It keeps the page on track and stops it becoming doom-porn or a mud-throwing contest." The focus, they indicated, is on personal stories.
Genuine confessions of unethical (or at least very dubious) behavior have made it to the platform. The candidness of the posters is, at times, astonishing. "I made a charity NFT project for my neighbor with cancer. We raised over $3 million on mint day. She ended up dying so I [took the money]," stated a user in May. Another claimed to have reported a former crypto friend to the IRS. While most of these posts are taken with humor, some have received strong backlash—especially when the person being scammed is a well-intentioned family member.
Coinfessions as a Mirror
A question that naturally arises is whether all of these confessions are true. Perhaps not, but the crypto space is ridiculous enough for many of them to be believable. Coinfessions' quick rise in popularity furthermore indicates these stories at least feel authentic to the community. The gallows humor in some of the posts certainly fits the crypto meme culture, as do the grievances about lost funds.
The variety of ways crypto natives have already used Coinfessions is remarkable, whether to call the attention of prominent crypto figures, gloat about trading wins, throw shade at DAOs, confess unethical behavior, or simply let out some pain. It would thus not be surprising for the account, which is already serving as a sort of mirror to the community, to become a permanent fixture. Right now, crypto natives are in agony—but the account's content could become more light-hearted once prices rise again. Or, as the owner stated, "when the bull market returns, there'll [hopefully] be no need for Coinfessions as everyone will be too busy making money."
Disclosure: At the time of writing, the author of this piece owned ETH and several other cryptocurrencies.
The information on or accessed through this website is obtained from independent sources we believe to be accurate and reliable, but Decentral Media, Inc. makes no representation or warranty as to the timeliness, completeness, or accuracy of any information on or accessed through this website. Decentral Media, Inc. is not an investment advisor. We do not give personalized investment advice or other financial advice. The information on this website is subject to change without notice. Some or all of the information on this website may become outdated, or it may be or become incomplete or inaccurate. We may, but are not obligated to, update any outdated, incomplete, or inaccurate information.
You should never make an investment decision on an ICO, IEO, or other investment based on the information on this website, and you should never interpret or otherwise rely on any of the information on this website as investment advice. We strongly recommend that you consult a licensed investment advisor or other qualified financial professional if you are seeking investment advice on an ICO, IEO, or other investment. We do not accept compensation in any form for analyzing or reporting on any ICO, IEO, cryptocurrency, currency, tokenized sales, securities, or commodities.
Celsius announced it had filed for Chapter 11 bankruptcy early Wednesday. Multiple Celsius customers have taken to social media to share their woes following the update.  Celsius Files for Chapter…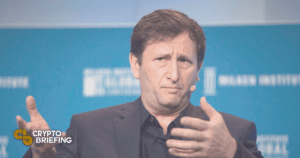 "An Insult": Do Kwon's First Interview Since Terra Failure Flops
Viewers complained that the interview failed to address difficult questions related to Terra's failure. Do Kwon's Terra Interview Slammed  Do Kwon has given his first interview since Terra collapsed in…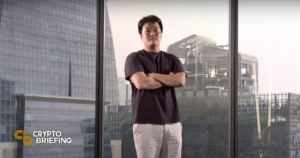 2021 in Review: the Top 10 Crypto Villains of the Year
Insider trading, rug pulls, misinformation in the media: crypto's latest bull run has had a dark side. Crypto Briefing identifies the villains responsible for the most controversial events of the…