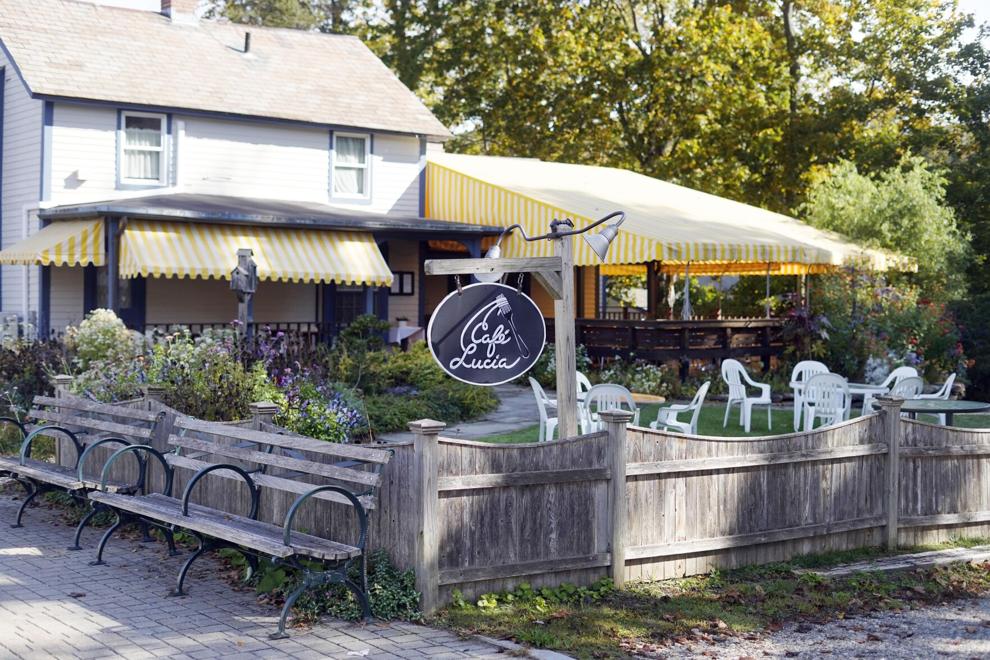 LENOX — Cafe Lucia, a landmark high-end downtown restaurant and celebrity haunt has quietly closed its doors, nearly four decades after it was founded by Jim Lucie, who passed away four months ago.
The low-key shutdown was announced in a notice posted at the entrance by Nadine Atalla, co-owner with Lucie since 1993. Atalla, his widow, had operated the restaurant for what turned out to be its final season, reopening it a few days after Lucie's death.
"It is with a heavy heart I must announce that we are now closed," stated a notice, which signed by "Nadine & Jim." "We had a great run, nearly 39 years. … I am so very grateful for all the love and support given to me through this most difficult yet successful season after losing my husband, partner and founder on June 13th, 2021."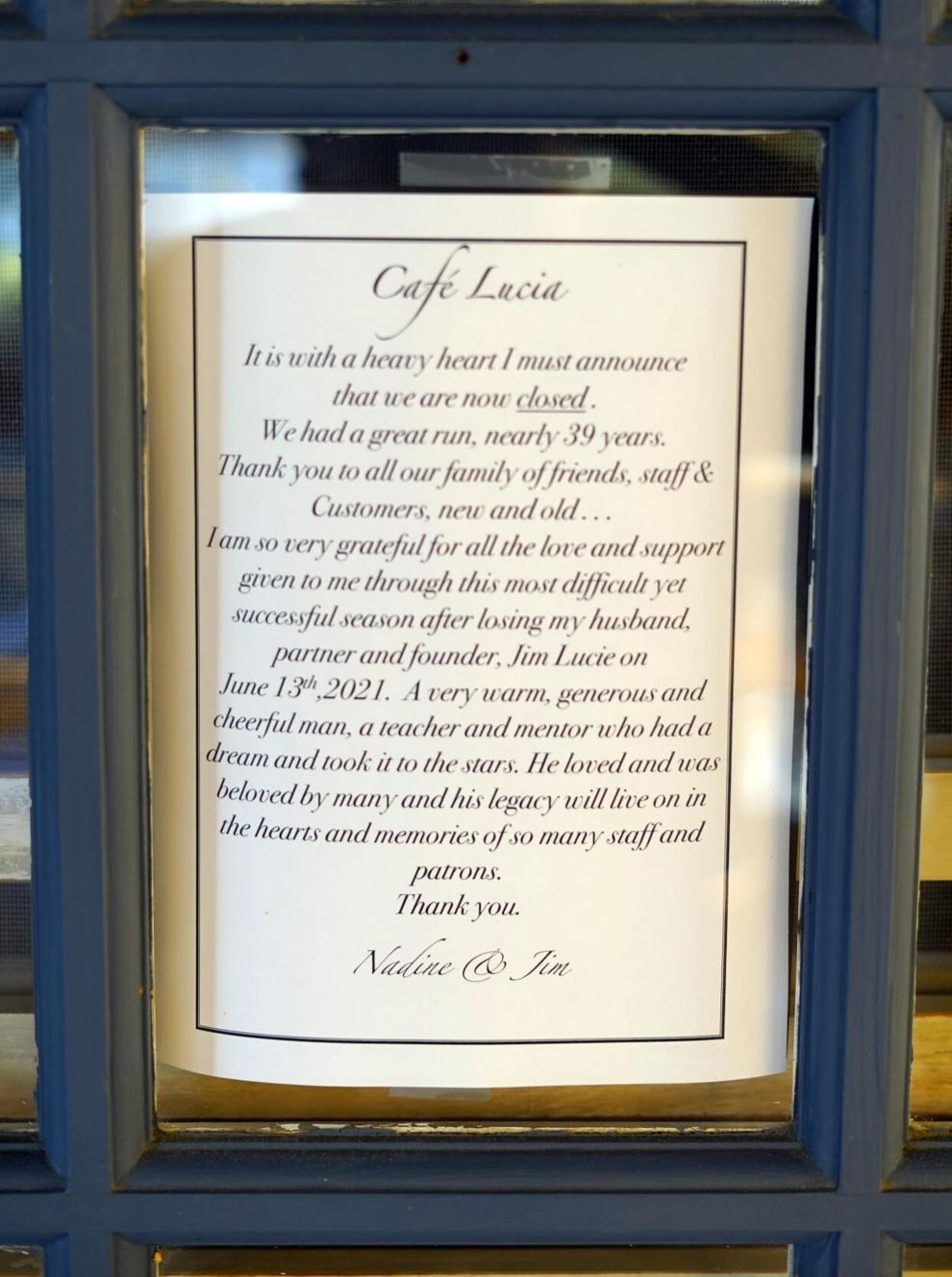 Thanking the restaurant's "family of friends, staff and customers, new and old," Atalla described Lucie, who was 76 and a resident of Lee, as "a very warm, generous and cheerful man, a teacher and mentor who had a dream and took it to the stars. He loved and was beloved by many and his legacy will live on in the hearts and memories of so many staff and patrons."
Atalla was not available for additional comment.
Second in longevity only to Terry Moore's Old Mill in South Egremont, which opened in June 1978, Cafe Lucia was among the most durable Berkshire restaurants under the same individual ownership.
The 80 Church St. destination for upscale Italian cuisine, with its own parking and an expansive patio and garden for outdoor dining, is being sold to Ryan Salame. The Sandisfield native has taken over two other downtown restaurants — The Olde Heritage Tavern acquired from longtime owner John McNinch last April in a $1.5 million real estate transaction and Firefly Gastropub, leased from restaurateur Laura Shack in the summer of 2020 for $300,000.
Salame, 28, is a cryptocurrency entrepreneur based in the Bahamas. He is a 2012 graduate of Monument Mountain Regional High School, and has degrees from the University of Massachusetts Amherst and Georgetown University in Washington, D.C.
Plans for the former Cafe Lucia have not yet been announced, he stated via e-mail. Details are expected to be revealed by year's end.
The restaurant has attracted Tanglewood luminaries such as John Williams, Seiji Ozawa, Leonard Bernstein, Andre Previn and many Boston Symphony Orchestra staffers, ever since a 1985 New York Times article listed it as Ozawa's preferred dining spot.
"Yes, we get the celebrities," Lucie told The Eagle in 2019, "and not just from the music world. But we've been very fortunate, and our general clientele is very special, with their extremely well-educated palate. It's like a supper club."
"There are nights when all the customers know each other," Atalla added. "When John Williams comes back to the Berkshires, on his first night he always comes here and tells us, 'It's just like coming home.' "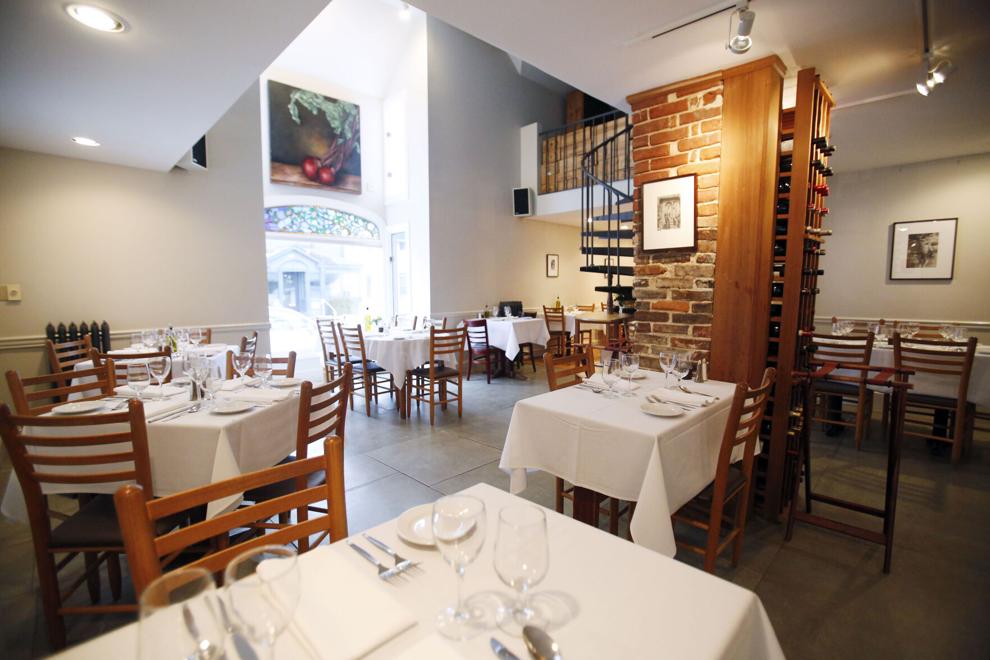 In November 2016, following an eight-year November-to-May hiatus, Lucie revived off-season dining with a lower-priced "winterlude" menu including pizza and hamburgers, "Lasagna Wednesdays," and half-portions of regular menu favorites aimed at local clientele seeking a night out "and not have to break the bank to do it," he said.
"You have to keep it fresh and vital," he said at the time, "but there's a basic core menu that you fill in around the edges with the daily specials, while being true to what you're doing, so our style of regional Italian food always has been simple and ingredient-driven."
Describing his and Atalla's style as "hands-on, sometimes almost micro-managers," Lucie pointed out that "it's a physical and a mental business, it's taxing on multiple levels, like being afloat in the ocean, riding the wave, with recessions every few years."
Cafe Lucia opened in the former Honey Sharp Art Gallery and Ganesh Cafe on May 15, 1983, when Lucie, a native of Teaneck, N.J., was 38. After leasing the space, Lucie purchased the real estate in 1989.
According to the Lenox Historical Commission, the building, originally a farmhouse, was constructed around 1853, and has been altered and renovated many times since.
Lucie had started as a school adjustment counselor in Norwood. But, seeking a career change, he learned the restaurant trade as a bartender, prep and line cook and then apprentice chef. He honed his skills as food and beverage director at the Red Lion Inn in Stockbridge and during a brief stint as general manager of the Hotel Northampton.
Shortly before his 73rd birthday, Lucie told The Eagle that he couldn't conceive of not working.
"Being around young people keeps you young," he said.
Clarence Fanto can be reached at cfanto@yahoo.com, on Twitter @BE_cfanto or at 413-637-2551.