Puppy-themed cryptocurrency Floki Inu (CCC:FLOKI-USD) has been tumbling since mid-November. It has declined almost 15% in the last 14 days and 30% in a month. The once-trendy crypto is trading around $0.000123, down roughly 65% from the all-time-high of $0.000342 seen on Nov. 4.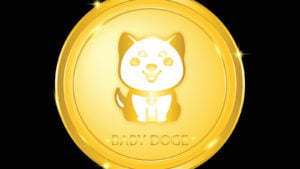 Source: Zie Project / Shutterstock.com
However, FLOKI is not alone in the recent downslide. Other dog-centric meme tokens also fell in the same period. For example, Dogecoin (CCC:DOGE-USD), and Shiba Inu (CCC:SHIB-USD) declined around 30%, and 35% over the month. The two major digital currencies Bitcoin (CCC:BTC-USD), and Ethereum (CCC:ETH-USD), are down around 23%, and 11%, respectively.
According to Alex Kuptsikevich, senior market analyst of FxPro, cryptos have entered a bear market and therefore the downward trend should continue in the coming months. He said, "Last summer, cryptocurrency investor interest returned after capitalization fell by more than half. This suggests the potential for a further 30% decline from current levels."
Meanwhile, the market has a new hype, i.e., the metaverse where real life converges with 3D and virtual reality. Recent metrics suggest that in 2020 the metaverse market was worth around $480 billion. And by 2024, it could be close to $800 billion.
Thanks to investors' growing interest in the prospects of the metaverse, several other altcoins are in the limelight. For example, Decentraland (CCC:MANA-USD) is down only 6% in the last 30 days while The Sandbox (CCC:SAND-USD) has returned about 45% over the same period.
Given the highly volatile and speculative nature of most cryptocurrencies, readers should be cautious when investing in FLOKI and never risk more than a small portion of their portfolios.
Floki Inu Is Expanding Into the Metaverse
Floki Inu, named after Tesla (NASDAQ:TSLA) CEO Elon Musk's Shiba Inu dog Floki, "birthed" by the fans and members of the Shiba Inu community on June 25.
The meme coin has a big group of supporting fans who themselves the Floki Vikings. According to a recent tweet on Twitter (NYSE:TWTR), the crypto has already more than 360,000 holders.
FLOKI claims to be a movement, rather than just another cryptocurrency. In this regard, Floki Inu team has been working on three flagship utility projects: an NFT gaming metaverse called Valhalla, an NFT and merchandise marketplace called FlokiPlaces, and an educational platform called Floki Inuversity. In addition, as a part of its charitability pillar, the Floki community has started building a school in Ghana in cooperation with Pencils of Promise.
In addition to the partnership with Shopping.io, Floki finalized the integration with CrypoCart in late November so that users can utilize their "FLOKI tokens to make a purchase on over 1,700 stores and platforms worldwide."
Another recent strategic move was Floki Inu's cooperation with the decentralized blockchain oracle network Chainlink (CCC:LINK-USD) to enable tracking the real-time crypto prices on the Ethereum and Binance (CCC:BNB-USD) networks. And recently, the Floki team announced the plans of launching the Floki Inu metaverse around Feb. 2022. The virtual world will comprise a gaming space where people can play to earn NFTs.
The Bottom Line on Floki Inu
The developers are supporting FLOKI's social presence through an aggressive marketing, using social media, billboards, and even public transportation vehicles. For example, the team launched a massive ad campaign throughout Europe a couple of months ago. In early December, it has become a top-trending topic thanks to the tweet about FLOKI's appearance on Burj Khalifa.
Moreover, they are sponsoring sport clubs and celebrities worldwide, such as popular European football clubs, including SSC Napoli, Germany-based Bayer 04 Leverkusen, Russia-based Spartak Moscow, and world boxing champion Tyson Fury.
So far, Floki's big-budget ad campaigns have not worked as a catalyst. Despite high hopes, the metaverse endeavor could also be treading water to creative positive sentiment for FLOKI-USD.
But, meanwhile, crypto whale Glauber Contessoto, a.k.a. DOGE millionaire for becoming a millionaire through his Dogecoin investments, has set his sight on the FLOKI coin. On his investment and the prospects for FLOKI-USD, Contessoto commented, "depending on the markets FLOKI might take a few more dips before its meteoric rise."
Since its launch, Floki Inu developers have been highlighting its deeper purpose and broader vision of becoming "the most known and most used cryptocurrency in the world." However, this claim still needs to be proven.  Therefore, investors seeking crypto opportunities that aren't just speculative bets should allocate only a little portion of their portfolios to FLOKI-USD.
On the date of publication, Tezcan Gecgil did not have (either directly or indirectly) any positions in the securities mentioned in this article. The opinions expressed in this article are those of the writer, subject to the InvestorPlace.com Publishing Guidelines.
Tezcan Gecgil, Ph.D., has worked in investment management for over two decades in the U.S. and U.K. In addition to formal higher education in the field, she has also completed all three levels of the Chartered Market Technician (CMT) examination. Her passion is for options trading based on technical analysis of fundamentally strong companies. She especially enjoys setting up weekly covered calls for income generation.