Canadians can buy, sell, and mint their original artwork through CADASTORE and invest in CADACOIN to give to global charity organizations that improve accessibility for youth sports.
NFT emerged as one of the hottest buzzwords in tech in 2021. In fact, Collins Directory selected NFT as its most recent Word of the Year.
​​What the heck is an NFT, you ask? To break it down in layman's terms, "NFT" (or non-fungible token) refers to the unique digital identifier that records ownership of a digital asset or tangible asset. From digital artwork and collectibles to real world real estate, the possibilities for what NFTs can represent are endless. Once bought, this cryptographic data is registered on a blockchain (a digital ledger) and cannot be replicated. 
Since NFTs were introduced into the mainstream, millions have been spent on the most sought-after assets. In 2021, Twitter founder Jack Dorsey auctioned off his first tweet for $2.5 million.
NFTs open up a world of opportunities for artists in the digital art market. Encryption codes allow the creator to verify themselves as the rightful owner of a work, as well as give the art purchaser a guarantee that they have invested in an original asset.
Digital artists can use NFTs as an avenue for dropping and selling Blockchain-minted artwork for huge gains. Take the piece Everydays by graphic artist Beeple for example, which sold for $69.3 million.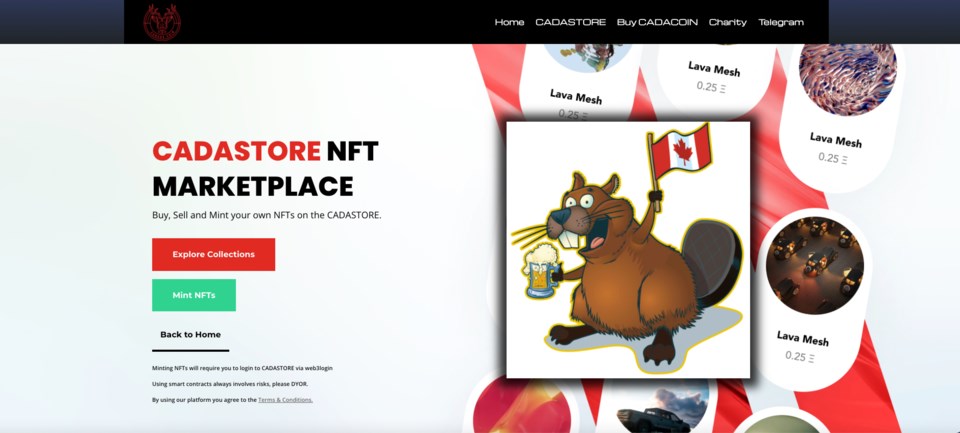 New to the digital art market in Canada is CADASTORE, where Canadian artists and art collectors can buy, sell, and mint NFTs. Hosted by The Canada Coin, this art marketplace aims to enable artists across Canada to list their own original content and showcase their work in the growing NFT world. Artist NFT submissions can be submitted to artist@thecanadacoin.com. 
Those interested in the world of NFTs are invited to join The Canada Coin's active Telegram community, where they host competitions for cryptocurrency and NFT prizes. The team administrators and moderators are easily accessible to answer questions regarding the CADASTORE marketplace, as well as how to purchase their token CADACOIN directly from their website or an exchange.
To fulfill The Canada Coin's mission of showing the positive impact that cryptocurrency is capable of, their charity token CADACOIN is utilized to team up with organizations around the world to provide funding for sports programs and scholarships for underprivileged youth. 
A percentage of the proceeds from CADACOIN token transactions, as well as from the CADASTORE marketplace go towards supporting The Canada Coin's various children's sports charity initiative partners.
The Canada Coin is currently teamed up with Ipoderac Children Fund – a foundation that provides a home for abandoned and homeless children in Atlixco, Mexico — to deliver sports equipment and jerseys to the children in residence. They are also a monthly contributor to the Hockey Canada Foundation Assist Fund, which enables Canadian youth to experience the power to play through Canada's game.
By investing in bettering and empowering the lives of children through improving access to participation in organized sports, CADACOIN holders will make a direct impact on future generations, one donation at a time. 
For more info on CADASTORE and CADACOIN, visit thecanadacoin.com and follow their Telegram channel.